Top ¡ä National Treasure Blue Cetaka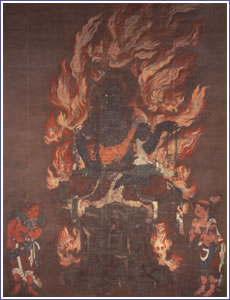 In its long history, Shoren-in temple has shared an extremely close relationship with the imperial family and has hosted several ceremonies and rites for them, for instance, welcoming a son of the imperial family as the residential priest. However, after the Meiji Restoration in 1868, its traditional close ties with the imperial family began to weaken.
Among all the national treasures and important cultural assets in Shorenin temple, the Painting of the Blue Cetaka (a blue guardian deity of the Shorenin temple), painted in the color of the deity¡Çs skin, is particularly well-known among the three major cetakas in Japan (Blue, Red, and Yellow). It has been awarded the designation of a national treasure.

As a residential priest of Shoren-in temple, I believe that my primary duty is to worship the Blue Cetaka as a symbol of the faith that is widely open to the public and to dedicate myself to create awareness about its good deeds and merits among many people in the world.
Each year, more than forty million people from all over the world visit Kyoto to seek comfort in the historic beauty of the ancient city, to enjoy the shrines and temples, to taste traditional cuisines, and to shop. I sincerely wish that I am able to provide them with an opportunity to learn about the moral values, lifestyle, and religions in Kyoto. Buddhism asks us to seek for inner emotions and to discover a way of life based on basic moral values.
Surrounded by a faltering society and increasingly advanced information technologies, people are more likely to feel uneasy and isolated or lonely. Further, people tend to have more problems that cause a great deal of distress. These physical trainings include sports such as Judo, Kendo, Karate, Iai or Aikido and also lessons generally practiced in temples such as Zen meditation or Shakyo, copying Buddhist canons on a long roll of paper.
How can we assist young people in setting goals in their life? We should provide the students visiting Kyoto city on their school excursions with a venue for training based on the teachings of Buddhism. In addition, we would like to establish sincere and interpersonal communication with all individuals.
In order to pass down the elements of Japanese culture through generations, a place to demonstrate Kado, Sado, Shodo, Koto, Shakuhachi, and Japanese traditional music, including Gagaku, should be constructed; this would provide the people with an opportunity to acquire a sense of familiarity with Japanese culture.
In addition, in the current aging society of Japan, few chances remain for retired professionals to share their talents with the society. Hence, we would also like to ask them for their professional assistance.
Although religion cannot possibly resolve all concerns, we might be able to suggest a guideline.
Further, while we will never compel our visitors to believe in the Blue Cetaka, we are confident that their prayers will lead them to success, owing to the blessings of the cetaka. Hence, we would like to construct a place where people can solemnly pray to the heavenly spirit and acquire some faith after visiting our temple.

The following are our plans for the construction of the Grand Hall of the Blue Cetaka.
We propose to build the Grand Hall at Shogunzuka, an exclave of our temple, located atop Mt. Higashiyama.
Taking the opportunity to build the Grand Hall of the Blue Cetaka, one of the greatest national treasuries, we also plan to build a complex facility including training rooms for the Buddhist and cultural lectures and Zen meditation, Budokan, a large-scale concert garden overseeing the city of Kyoto and a tea-ceremony room.
While the objectives and roles of the complex facility have been described as above, the administration policy following the completion of the facility will be decided after discussions with corporate and individual contributors, aiming toward further development of this project.
Since we would like many people to be interested and involved in the project, we hope and wish that we are able to complete this project based solely on donations.
Sincerely yours,
Jiko Higashifushimi
Head Residential Priest
The Shorenin Temple