Top °š Tea Ceremony Room Kobun-tei

In 1788, when the big fire of Tenmei destroyed the city, the Imperial Palace also burnt down; subsequently, the retired Emperor Gosakuramachi took refuge at Shoren-in temple, which served as a temporary Imperial Palace.
The Kobun-tei is such a time-honored building that the retired Emperor Gosakuramachi used it as a study house.
Since the Meiji period, it had been used as a teahouse, but was lost due to arson in 1993.
As a result of the warm and genuine support provided by the people, its restoration began in autumn 1995 and its completion was celebrated by a magnificent commencement party held by Sen Soshitsu, the head of the Ura-Senke school, in the presence of Their Highnesses Mikasanomiya.
The building was restored true to the original architectural form of the Edo period, based on the remaining drafts and sketches of the house. Even the types of the materials used such as the different types of wood were accurately replicated.
The house mainly comprises three tearooms, a Buddhist altar room, and a water room.
There are thirteen pictures on the partitions between these rooms; these pictures of flowers and birds were presented by Uemura Atsushi, the master of Japanese art, as a dedication.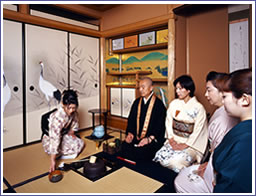 On certain days in spring and autumn every year, the tearoom of the Kobuntei is open to public.
During this time, owing to the cooperation of the teachers from the Shorenkai tea club and stuff in temple, one can enjoy a formal tea ceremony.Since no prior preparation or experience is required, please feel free to join us!

Dates

Autumn: Canceled

Opening hours

10.00-15.30

Admission fees

1,000 yen° Green tea and confectioneries are complementary°ň
* Please note that this is an additional charge apart from the normal entrance fee.